I saw this challenge the other night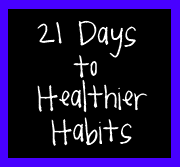 and thought what a great idea .......... but what do I want to change? Lets be honest - there is a lot I need to change but I know if I do it all at once it will all come crashing down on me.
So I have chosen 3 simple small changes that I can make to my life
1. No Candy for 21 days
- Not any, not at all. I had been doing real well on this one for a while and then last week I just went and ruined my whole progress
2. 30 minutes of exercise a day
- This can be from walking home from uni to stretches and circuits anything as long as its 30 mins EVERY day. This should be do-able till friday at least as I have feildtrips which are bush & tramping based monday to friday for the next 2 weeks. Just got to get my butt moving on the weekends - wouldn't hurt to do a little extra after my days in the field but will see how that goes.
3. No buying take-aways
- again another thing I thought I had sorted but happened to slip up on this week.
So started this today and day 1 has been a success so far. Now for day 2 ............